With a warm and courteous smile, you can leave a long-lasting good impression. However, sometimes people avoid smiling as they get self-conscious about the presence of their teeth. Most often, the problem is the missing teeth because of an accident or through decay.
When there are missing teeth, the facial muscles of people can sag and also lead to lop-sided smiles. Additionally, people having missed teeth can get chewing issues. Fortunately, dentists are able to repair smiles in different ways.
One of these is through creating full or partial dentures. Here is the thing that you have to know about all benefits you get with dentures.
What do you mean by Dentures?
By dentures, we mean artificial removable teeth that are available mainly in two forms, complete or partial. As implied by the name, with partial dentures you're only able to cover a certain missing teeth segment when still other natural teeth remain present inside your mouth. Other than that, total dentures lead to the covering of the whole mouth. While having dentures set your dentist molds the gums and teeth for creating a comfortable and effective dentures set.
Denture care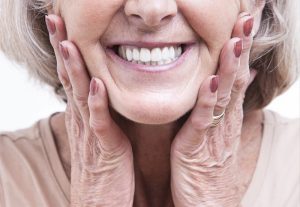 Dentures are made through delicate materials that might break when dropped. For the same reason, it is recommended by dentists to store dentures out of children's reach along with pets.
People having dentures get encouraged for maintaining fine habits of oral health. For example, they must have a gentle cleaning for the dentures each day through a soft-bristled toothbrush. It leads to the removal of stains, plaque, and food deposits. They must also brush, tongue, gums, and palate before they insert dentures. Among all benefits of dentures is there are a lot of products available in the market for cleaning them.
Benefits of Dentures
The general benefit that people get through dentures is a total functioning set that appears and feels much better. Current dentures look modern and fit well than they earlier were.
A common issue that most people have gone through while wearing old dentures is not getting a snug fit. However, nowadays with highly advanced dental technology and new innovative materials, new dentures are considerably getting improved.
Also, you'll discover that the dentures are making you appear more youthful! With the loss of teeth, your face gets a sunken cheeked appearance but with dentures, you can reserve it by providing your cheeks with definition and shape.
Benefits in a glance
Dentures have now become an alternative for missing teeth. With dentures, you get various benefits for patients having missing teeth.
With dentures, you get increased self-esteem
Improve the smile and appearance
With dentures, you get added support for facial muscles
Denture support leads to speech improvement
With dentures patients are able to consume food that they weren't able to without the presence of teeth.
Nowadays dentures are designed got bringing comfort and being functional
Dentures can get removed easily letting you thoroughly and quickly clean these.
Many dental insurance plans benefits cover dentures.
Claim your lost smile back
With the removable device denture, you fill out the space of the missing tooth. It comfortably fits well against gums so it appears perfectly natural. Getting a total denture becomes necessary when there are no natural teeth. A partial is meant for filling in the areas surrounding your natural teeth. The dentist in Torrance adjusts dentures to obtain the right fit periodically, with comfort and wear. When dentures seem like an ideal treatment plan, here is what you'll get:
After your damaged teeth get removed, the dental measurements are taken and temporary dentures are for fitting well with the mouth. When your gums get healed, you make the final dentures. Denture benefits can easily get realized in a happy, full smile with healthy gums.
While you wear dentures, people notice differences while talking or chewing foods. As an outcome, it becomes helpful to have little food bites on both mouth sides, and for practicing you can say difficult words aloud. All these exercises are helpful for the new denture wearers and it gets them comfortable with the new mouth gear. It helps them in providing confidence in wearing dentures, so they'll be able to show off their beautiful new smile.
Regular flossing and brushing helps in keeping your teeth natural and prevents the decay of food debris within. Additionally, dental checkups and cleanings are vital for keeping gums and teeth in good health.